The truth about the MTN 100% data bonus promotion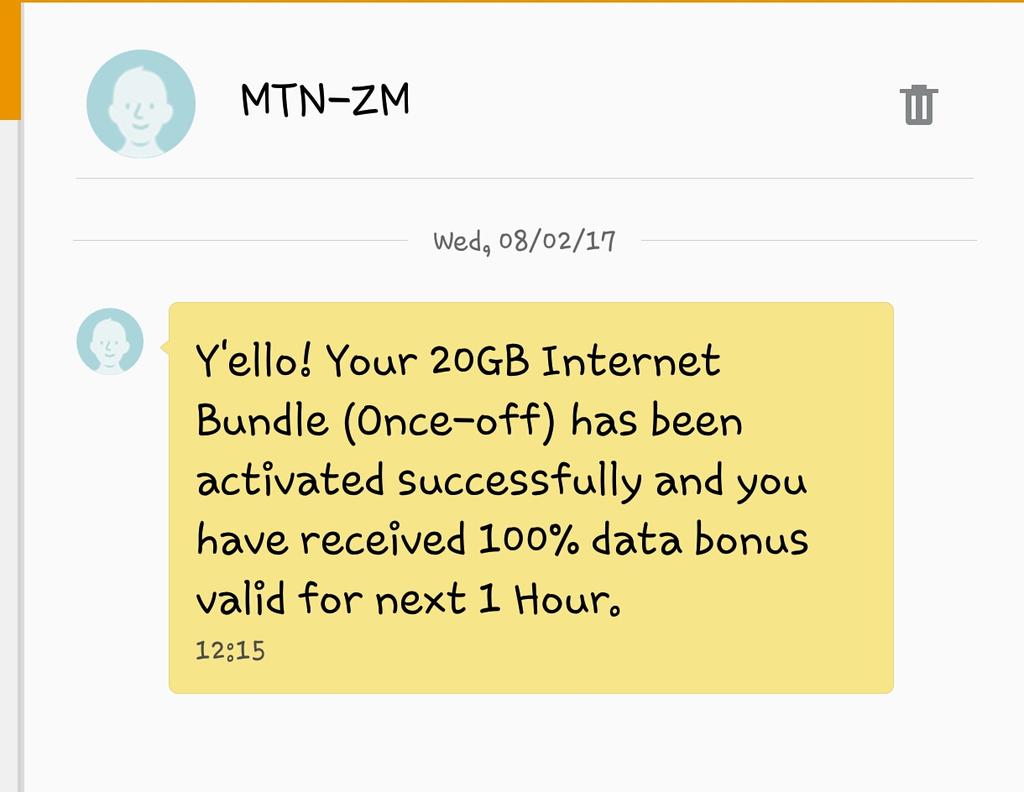 So we all like free things – well, not so free if you paid for something like data – so I was excited to receive a 100% bonus on my 20GB topup.
Elated is an understatement.
Then I saw the catch.
The end of the text message that delivered this awesome news said I only had an hour to use it. All 20GB of my bonus data. I went into data usage panic. What large files should I download? Who should I WhatsApp call? What new apps should I get?
The ridiculousness of this validity period for the gifted data prompt me to ask MTN Zambia on Twitter why they made it so short and I got this response:
Y'ello @sandichimpala, the bonus bundle is only valid for one hour so that you can have enough time to use the actual bundle purchased. MTN.

— MTN Zambia (@MTN_Zambia) February 8, 2017
Are you serious???? I had to ask:
Is this an official answer, like, the team agreed on this? https://t.co/wiP2wrQqWI

— Sandi Chimpala (@sandichimpala) February 8, 2017
with MTN Zambia adding on that one could use the bonus data to 'update a device'. WTF! No really, you could update your WTF apps – WhatsApp, Facebook or Twitter…
@MaceWimbu You can use the 1 hour to update your device.

— MTN Zambia (@MTN_Zambia) February 8, 2017
Someone had to ask this very logical question:
Because my device runs a 20gb version of android….. @sandichimpala. MTN are actually looking out for us ? https://t.co/nPmDZVcfXy

— Wimbu (@MaceWimbu) February 8, 2017
Ofcourse my Twitter folk agreed with how silly the length of time for that much data really is:
How does one use 20gb in an hour?? Zambian download speeds wouldn't even allow a full brain upgrade, if such existed. Shame! https://t.co/xJucIorT0I

— TheOtherKK (@TheOther_KK) February 8, 2017
@sandichimpala @lwangamwilu @MTN_Zambia @techtrends_zm I think they are encouraging watching of illicit videos what sense can you do 1hr?

— Eng TKN (@telferkndumba) February 8, 2017
who they responded to with
@telferkndumba, The usage of the bundle is dependent on ones preference. Thank you

— MTN Zambia (@MTN_Zambia) February 8, 2017
and then the criticism continues:
? HOW? https://t.co/VH8L6YG1rq

— Nigel Chewe Shula (@TheNameIsNigel) February 8, 2017
This is so ridiculous.. https://t.co/9mIw4zHmTi

— iSaidit (@ZedSpit) February 8, 2017
If MTN wants to give people a little extra time before they start using their actual data bundle, how's about a day or two? Hell, even a few days for the larger bundles, but no, 1 hour was the perfect timing it seems.
Techtrends is waiting on an official response from MTN Zambia on this reasoning, and by official I mean the CEO Charles Molapisi's response as an email was directly sent to him. There's also a Facebook Live chat tomorrow with Mr Molapisi focusing on #DataThatWorks (even if for only 60 minutes). I'll ask this question again if there's no response by tomorrow morning.